Pixel Adventure 2

Pixel Adventure 2
This project contains all the 20 enemy characters that are presented in the Demo version above. Every enemy has a different mechanic to help you create fun and interesting levels.
Play the Demo to see all the enemies in action.
Use the arrows on your keyboard to move left, right and jump.

On the top-right corner are buttons to move you through the different scenes.
Combine and modify all these elements, and enjoy creating your own adventure.
Note:
-This project contains (20 enemies) graphics images only, in PNG format.
-All animations have a speed of 20 FPS or 50 MS.
License:
-All Assets in this pack can be used for Personal and Commercial projects. You are permitted to use the Licensed Content in unlimited Commercial projects. You are free to modify or change any of the assets to fit your creative needs.
-You are NOT permitted to re-sell, sublicense, or distribute assets to third parties as standalone files.
-Credit is not necessary but much appreciated.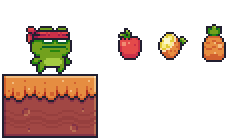 Download the rest of the assets in Pixel Adventure 1

Follow me on Twitter
Join my Discord channel
Download
Click download now to get access to the following files:
Pixel Adventure 2.zip
188 kB
Comments
Log in with itch.io to leave a comment.
Hehe, I love the "tut turuuuu" part
I'm using Construct 3, too, could you please tell me how you made that character's death effect, did you use a bullet behavior?
Yes, it was made with the bullet behavior...I shoot him upward, then the gravity of the bullet behavior do the rest :)
is it possible for you to post animated samples of the other enemies so we can look and decide before purchasing? you have lots of enemies listed, but show animation only for some of them. Thank you in advance. also, do the animations include the particle / dust effect (for example, the chicken running has the dust trail) one last question: are these characters 32x32 or some other size?
Hi there, thanks for being interested :D
-You can play the DEMO, every level has a new enemy, and you can see all the animation they have in there.
-The particle effect for the DUST was made in the engine, you have to program it. I do give you the little dust sprite (no animation)
-Yes, all of them are around that size (Grid in the back is 32x32)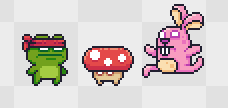 Great asset, i will make a game with this!
Thx, i buying this) Wait my game - i add url from you page =) Sorry my english, i from RUSSIA!
PUTIN VODKA KOLBOSA SELEDKA :3
Hello Putin, hahaha, have fun with these assets, and yes please, share your creation with us :D

Hello I was wondering what is the price for the capx file?
Hi :)
Unfortunately, I delete the capx file (code) by mistake, I'm trying to recover it. But anyways, I wasn't planning to share it, because I'm not a good programmer, and the code was really a mess. It will confuse people instead of help them.

Oh you did? I like even if it was a mess like your saying. I really do enjoy it. If you do find it would 100.00 USD good enough for it?
That sounds amazing !!!
If I can get it back, I'll let you know :D
Sounds good I will contact you in emal