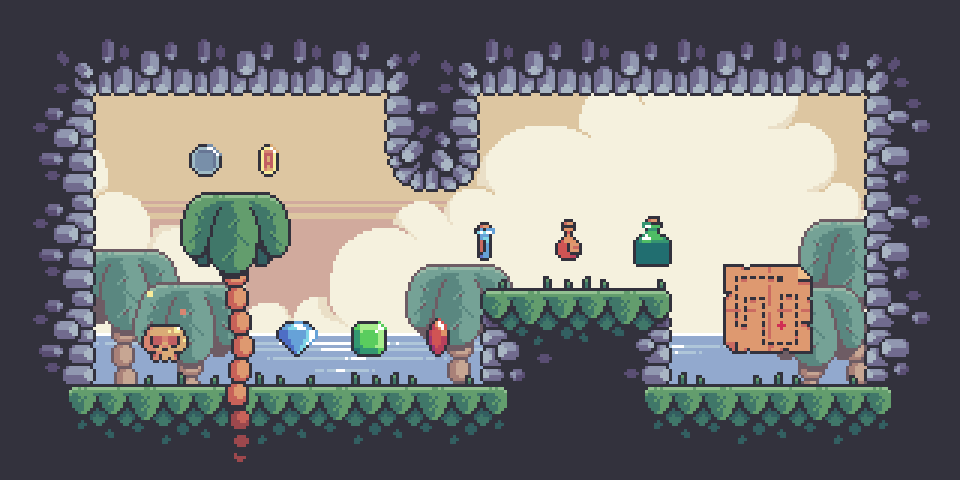 Pirate Treasure
A downloadable asset pack
Get this asset pack and 6 more for $10.00 USD
View bundle
Pirate Treasure
All that a true pirate needs. Diamonds to feed the greed, and potions to heal the wounds. These treasures are most commonly found on Palm Tree Island :D

(Set browser to 100% zoom to see crispy images)
Sprites (all animated) :
Blue Diamond
Green Diamond
Red Diamond
Silver Coin
Gold Coin
Blue Potion
Red Potion
Green Bottle
Golden Skull
Big Map
Small Maps (4)
Diamond Effects
Coin Effect
Potion Effect
Skull Effect
Map Effect
Palm Tree Island level not included
Files info:
Package contain Aseprite files (editable)
All images are in PNG format
Animations come in separate images
Animations run at 10 FPS or 100 MS
License:
If you purchase the assets, this license grants you the right to use the game assets provided in any number of non-commercial and commercial projects.
You are allowed to modify the game assets.
No attribution is required.
Do not distribute or sell the game assets, except if they are content files of your non-commercial or commercial project.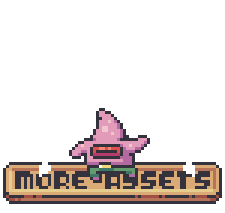 Purchase
Get this asset pack and 6 more for $10.00 USD
View bundle
In order to download this asset pack you must purchase it at or above the minimum price of $2 USD. You will get access to the following files:
Pirate Treasure.zip
74 kB
Comments
Log in with itch.io to leave a comment.
Hi, I just bought the whole asset package, where do I give 5 stars?
Hi there, thanks for your purchase. To give a rate you have to go to each individual pack and you will find the Rate button on the top-right corner.
Have fun!! :D
This is cool pack thanks)
Hi I'm looking for someone to create a character for my game. I will pay for it. Your art is nice. Pls contact me whtsapp 0189009914
WOW!! This ist so ...WOW...
hehe, I'm glad you like it ;)
Oh yeah!! And the map and it's parts, such a great idea and anaimation.!!
Yeah, you can make something like... if collect all 4 maps you earn extra coins :D
Yes, or it shows you the way to the hidden treasure. Or like in Tomb Raider you see the goodies flashing. Sooooo much we can do with this map :D:D:D:D
hehe good!
Btw, your seashell idea is in a poll that I'm making on Discord about the following objects that I'm gonna include :)
I like the spin animations!
The new map animation is epic!

Thanks, it was fun to make :)
I'm gonna have to purchase this pack as well :D